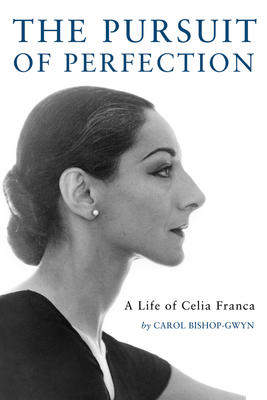 This is a penetrating biography of one of Canada's most important dancers, by an author who is a writer as well as dance historian, with degrees in dance history from both Canada and England. She tells Franca's story with sharp insight and considerable detail. It is an impressive feat.
Celia Franca was born in l92l to a Polish-Jewish family in east-end London. Her parents had very little money to back their daughter when she began dancing around the house and at parties, but her obvious talent did lead to music, then dance lessons. Celia was rather short, with sturdy legs but not the high arch of most ballet dancers. She made up for this with a great sense of rhythm, of drama and showmanship, a long beautiful neck, and a high jump. She won a professional audition, got into Ballet Rambert and eventually Sadlers Wells. By this time she had made her mark outside England, and then came the offer to start a national school of ballet in Canada.
The rest is history and Carol Bishop-Gwyn describes the challenges Franca faced in getting dancers and money for the National Ballet of Canada. The book is full of all the dancers of this generation from de Valois, to Rudolph Nureyev, Margot Fonteyn, Veronica Tennant, and Karen Kain. There were lots of heartbreaks for the determined Franca – but nothing stopped her and her high standards gave this country a fine ballet company. The book is full of photographs showing Franca with her three husbands, but also being feted in countries around the world. She paid the cost of her pursuit, but we see that she had no choice.
Review by Anne McDougall